Infectiously good vibes! LIUNA gets to know Hush Hush Photography and Film!
They've shot a wedding in every one of our ballrooms. They have beautifully portrayed our gardens, foyers and bridal suites and now we want to know how they do it so effortlessly! We just could not let another day go by without getting to know Hush Hush Photography and Film a little better! 
Tell us a little bit about Hush Hush Photography + Film!


Hey there!  Hush Hush Photography & Film is me–Aidan Hennebry–and in part also my wife Leanne. We're Hamilton wedding photographers & videographers with a love for colour and capturing photos + films that are timeless. We moved to Hamilton back in 2014 shortly after we'd gotten married, and since then we've been thrilled to become more and more involved in the Hamilton wedding community. To say we love what we do would be an understatement.
How did you get started in the industry?


Like many photographers, we had a college friend who was getting married ask us to shoot their day back in 2012, and that was it! We were immediately hooked on the emotion and beauty of wedding days, and we've been capturing them ever since. 
What is one part of the job you absolutely love?


Uh, can we say every part? Haha. While shooting and editing and actually doing our job is a huge perk, easily our favourite part is getting to know couples on a super personal level. Many of the couples that hire us end up going on to become our friends (or we become their friends) after their wedding is over. Because we pour so much of our heart and soul into every wedding we shoot, our couples tend to gravitate towards us just as people, and we end up building a bond that will often go beyond the wedding planning process. Not only does that deep bond help us get better photos + videos on a couple's day, it's just a pleasure to get to share a small part of your lives with others.  It is so much more than just a job for us.
What is one thing that always surprises you about events?


Easily the part that surprises us most about weddings is how emotional every wedding still is to us! Like most careers, there are elements of being a wedding photographer/videographer that can definitely just become 'part of the job'. It's easy to become numb to certain aspects of what we do.  But no matter how many heartfelt vows or tear-jerker mother-son dances we witness; we still get a little choked up and goose-bumpy over just how special a wedding is to witness. We drive home after every wedding with big smiles on our faces and the infectious good vibes still pulsing through us. It never gets old.

What's a trick you use to make clients feel comfortable and at ease?

We have a huge bag of tricks! A serious one we employ is, as stated: just getting to know the people you're photographing. On a sillier level, I tend to just talk a lot when I've got a couple in front of the camera and say gibberish nonsense to get them to laugh or crack a genuine smile. 50% of the time, it works every time. They get caught off guard by like 'What did he just say?' then they laugh, and I get the shot I was looking for.  
What has been your favourite session of all time?


OH MAN that's a tough call to make! My cop-out answer is 'the next one' meaning I'm always trying to do better than the last time; pushing to be better and better every time I step up to the plate.  But a wedding that was easily in my top 3 was Chris and Heather's wedding at LIUNA Station. Not only was the entire evening gorgeous, but their end-of-the-night sparkler photo when surrounded by friends and family was possibly my favourite photo ever taken.


What type of session would you love to do but haven't yet?


I mean, I don't think there's many places around the world you could fly me that I wouldn't want to photograph a couple in. Whether it's the Albertan Rockies or a rooftop in Manhattan, I am totally down. Leanne really wants to go on a cruise though, so if someone wants to take us on a destination wedding somewhere tropical, we're on board! We'll cut you a deal! Just fly us anywhere.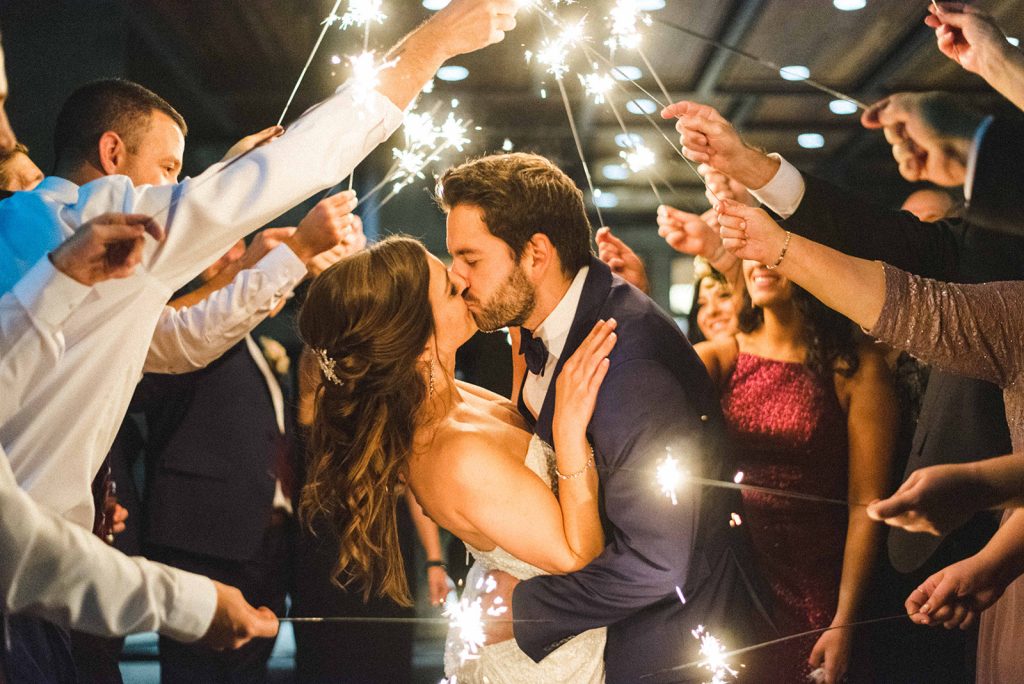 How do you keep things fresh? Where does your inspiration come from?


In late 2018 / early 2019, I picked up a new hobby which was watching a lot of old movies, and a lot of beautiful movies. I began studying the cinematography of those films and analyzing what made them beautiful. How do they use light? How do they string together a sequence of frames to make a really powerful and coherent story? Movies, I believe, are a criminally underrated source of inspiration for many photographers and videographers everywhere.  


What event are you looking forward to most about 2020?


I don't know if there's a single event we're most looking forward to in 2020 (primarily because we're looking forward to all of them!), but I can say that, without a doubt, we're looking forward to continuing to be more generous with our business. Something we don't discuss a whole lot is just how many photo shoots and discounts we give away to friends and small businesses and strangers in our community. We've been given so much with Hush Hush that being able to give back with it is something that gives us the most meaning; not how much money we make or how popular we are. 2019 was a record year in the amount of stuff we did 'just because', and we hope that 2020 will eclipse it still!  It isn't really something a strategic business person would advise (I would guess), but it's something we feel called to do, so we're going to go for it again.


When should people book with you for an event?
'Early' is the answer in one word!
What a heart-led business! Follow Hush Hush along on their journey here:

Instagram
Facebook
Stay tuned for weekly blog updates and make sure to follow us on LIUNA Station's Facebook and Instagram and LIUNA Gardens' Facebook and Instagram as we deliver fresh content to inspire, excite and assist as you plan your dream event.
From all of us at LIUNA Events, thank you for following along!
360 James St N
Hamilton, ON
L8L 1H5
Or fill out request below.