Celebrate in style with full hearts (and bellies)!
Looking to spice up this year's tablescape for Thanksgiving? Whether you are planning a future Thanksgiving/fall inspired-wedding or just a great spread to entertain and give thanks in the comforts of your own home – this week we have some beautiful décor ideas that will have everyone talking! Lush, minimalist, cute or chic we've got you covered!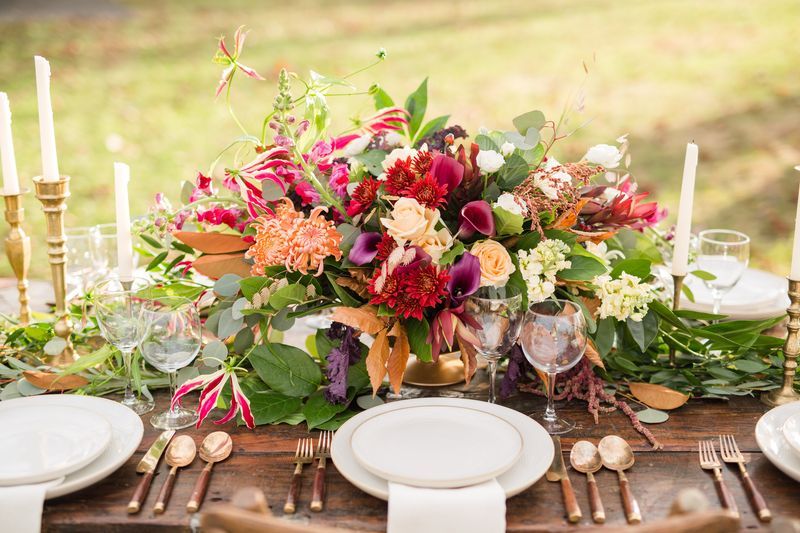 Photo credit: Kari Me Photography
As seen in ElleDecor.com a popular choice is bold, beautiful cascading florals to wow your crowd! Using beautiful fall hues to brighten up the space will have everyone whisked away on playful daydream.

Photo credit: Mike Garten
We absolutely loved this idea when it popped up – painted rocks for place cards! How simply unique and personalized could these be?! As seen in GoodHouseKeeping.com this also adds a cute woodsy feel to the table décor, and we think this idea could suit any season, event or style!

Photo credit: Jen Fariello Photography
We love fruit in a basket! So charming for your outdoor fall festivities and there are so many ways to dress it up. As seen here on Marthastewartsweddings.com where they have a rustic farmers box perfectly filled with delicious apples. But don't feel as though you have to play it safe, you could easily add cranberries, figs, and a little squash or pumpkin into the mix but the choices are truly endless!
And what could be more striking or environmentally savvy then getting goods right from your own backyard. As shown here in
ElleDecor.com creating a memorable setting doesn't have to break the bank – gathering branches and some blooms from your own gardens can add that perfect personalized touch to your fabulous feast.

Photo credit: Cathrine Taylor
And do not shy away from the classics – pumpkins, elaborate colourful candles, a horn of plenty or cornucopia! If these are you yearly go to's – go to it! But remember you can always mix and match ideas, add in a few more stems or bunches to get that beautiful festive fall feel.
There is always a lot to be grateful for on Thanksgiving. The beautiful change of season, friends and family, great food, and so much more. Happy thanksgiving to you and yours from LIUNA Events. This thanksgiving and always, we are grateful for you!
Stay tuned for weekly blog updates and make sure to follow us on LIUNA Station's Facebook and Instagram and LIUNA Gardens' Facebook and Instagram as we deliver fresh content to inspire, excite and assist as you plan your dream event.
From all of us at LIUNA Events, thank you for following along!
360 James St N
Hamilton, ON
L8L 1H5
Or fill out request below.