Story Telling! | LiUNA Talks 2023 First Dance Trends
The first time the married couple takes the floor is always memorable – it's something etched in the guests minds days after! From the ambiance of the room to the tempo of the music and movement of the couple this moment defines you both, it's your love story! This week we take a look at some of the 2023 trends for first dances. 
Song Choices can be catchy, fun or romantic – remember to choose what feels comfortable because it will easily come across in your movements. The more you enjoy the song, the easier it will be for you and your partner to enjoy it. If you have a song that instantly comes to mind and describes you both as a couple–use it! But otherwise here are a few of the more popular songs of the year if you're still searching. Get ready to hear Taylor Swift 'Sweet Nothing' and Harry Styles 'Love of My Life' also "Perfect" by Ed Sheeran, "Until I Found You" by Stephen Sanchez and "You" by Dan + Shay are just a few but check out Bands for Hire where they give a detailed list of 2023 trending tunes.
Another trend alert—nostalgia, says Brides.com "Though the focus will be placed on new and emerging songs, couples will continue to honor past classics and play pieces that they deem as sentimental. Nostalgia remains a key trend, with the re-discovery of 80s and 90s music at the forefront on Spotify." shares Kraines of Bride.com. 'Kiss Me' by Sixpence, 'None The Richer' and 'Fade Into You' by Mazzy Star are great examples of love songs that have found a brand new audience in 2023, and will delight the married couple as well as their parents."
Choreographed dances are still popular – they add an air of mystery and excitement to the evening that gets everyone putting on their dancing shoes! If this is your route, be sure to give yourself enough time to find a choreographer and learn the dance – you always want to feel confident and comfortable. The less you have to think about your movements the more you can just focus on the fun!
If romantic first dances are not your thing no worries we got you covered! Alternative dance trends like group bridal party group dances or inviting the parents of the bride and groom onto the dance floor seem to be rising in popularity. There have been instances where couples have included dancers or set up a TikTok dance for everyone to learn and participate in as well.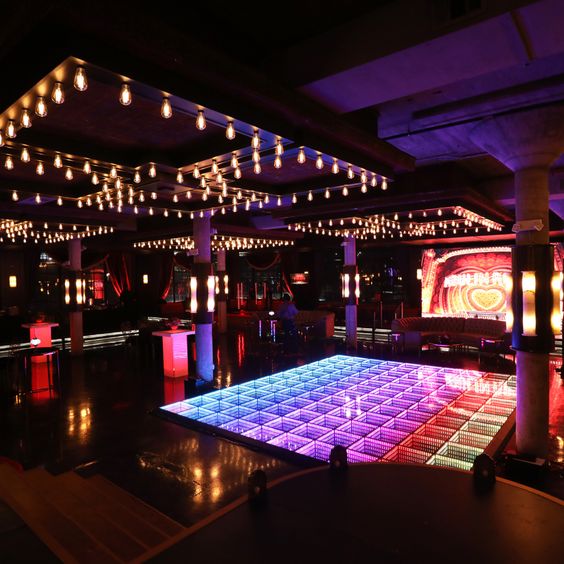 Also consider adding in bubbles, bringing in a fog machine or rent an interactive dance floor to dance the night away with your loved ones on! Above all else, have fun and get creative by any means necessary! 
Listen, we really love to party – connect with us at 905 525-2410 or toll free: 1-866-525-2410
today to host your next wedding or event!