Handpicked, thrifted and created with LOVE! | Talking Wedding Design with Tori!
We loved Tori's wedding inspo – the flowers were bright, romantic, wild and garden-like! All décor pieces were handpicked with intention and purpose to be repurposed! This wedding was truly one-of-a-kind!
Tell us a bit about your event you hosted at LiUNA Station!
We hosted our wedding on October 15th, 2022 – our ceremony was held in the lobby and our reception was in the Grand Central Ballroom!
What were some of the sources of inspiration behind the look and feel of your event?
For décor and the overall feel of the venue we wanted to mix our love of vintage with a modern feel while merging our own personal styles together. LiUNA Station was the perfect fit with its grand and cinematic aesthetic. So many of our guests were enchanted with our choice in venue and we have gotten endless compliments on the location, the food and the amount of fun our guests had on our wedding day. We really couldn't have asked for a better day all around!! 
We wanted to mix a very royal and glamorous colour palette with the rich purples and golds, lots of organically styled florals, mismatched retro brass candlesticks and engraved glass votive holders. We loved that there were unique elements and that not everything was uniform — there was something different and interesting everywhere you looked, from the elements of the receiving table, to the arch, to the centerpieces. We were able to bring our décor together with old family pieces, vintage finds from thrift stores and had so much fun assembling each element. 
For florals, I loved the look of bright, romantic, wild, garden-like florals. We used Vermeers Garden Centre for the bridal party bouquets, boutonnières and corsages. All of the centerpieces, the floral down the aisle, and arch we did ourselves with a mixture of dried and artificial florals. This helped us to save substantially on floral costs, reduce the waste that our wedding created (as all florals will be reused and loved by other couples when we lend our décor out) and customize each element to exactly match our vision.
Share with us your number one couldn't live without décor piece or tastiest food option from our catered menu!
Two of our favourite decor pieces were the "LOVE" marquee letters which we created ourselves using poster board and Edison bulb light strands — and the floral arch, which we designed and assembled ourselves with a mix of dried and artificial florals from Costco and Michaels craft store. 
Each element of the décor we handpicked, thrifted, and/or created ourselves so that we were able to add in elements of our own style and personality while sticking to a budget.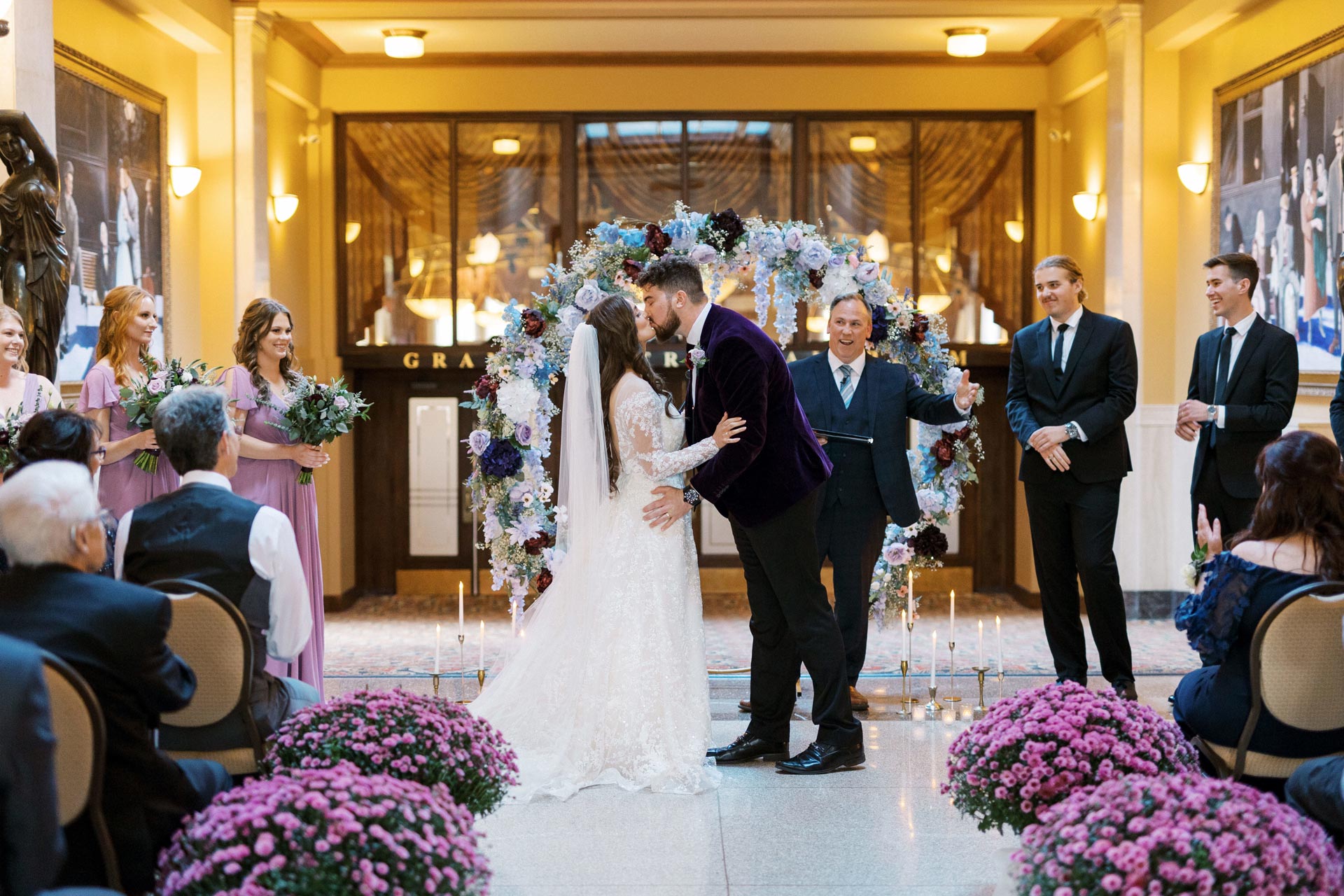 What is the one piece of advice you would give someone planning their big day!
I would say not to get caught up in the tiny, inconsequential details. Have fun with the planning and creating your vision of your day together, but don't fret over the little things that won't matter at the end of the day (most of them you won't even think about because the day goes by in a blink!) Sit down as a couple and prioritize the most important things for your day together, like how you want to feel, what you want to do, how you want it to look, and what aspects you're most looking forward to — the rest of the small details won't really matter at the end of the day. 
Secondly, research your vendors well!! Talk to married friends, read reviews, read contracts and don't settle. We were surrounded by a great team of vendors — each were experts in their areas and although they do this work routinely, they each found ways to make our day feel unique and special.
What moment during your event will forever be etched into your memory?
The first answer to this question for both of us was our last dance before we left that night. The remaining guests surrounded us in a circle on the dance floor while we shared our last dance, and it was so much fun to be surrounded by friends and family — everyone was laughing and sharing in the moment. 
We also loved getting to sit down at the reception and see all of our hard work and the vision of our wedding day come to life for the first time. To look around the room and see everyone we love having a good time, enjoying their meals, and the company at their tables, as well as see all of the decor assembled so beautifully in the space was an unforgettable experience. 
Please let us know who can we credit each of the photos to?