What runs the world? Trends! – LIUNA's looking at the best of the best global wedding trends of 2019!
From strategically placed runners to floral designs that don't break the bank to unique bridesmaids dresses – we've got you covered! Here are some of the most noteworthy wedding details that are trending around the world. So many options for one magical day, so let's get started!
Out with the old! This year there are no rules holding you back when it comes to dressing your favourite women on your special day. Whether it's stunning hues, beads, lace or different hemlines – your bridal party is filled with beauties and their dresses shouldn't be any different. Find a dress that complements their own style, so they feel confident and comfortable (and want to wear again)!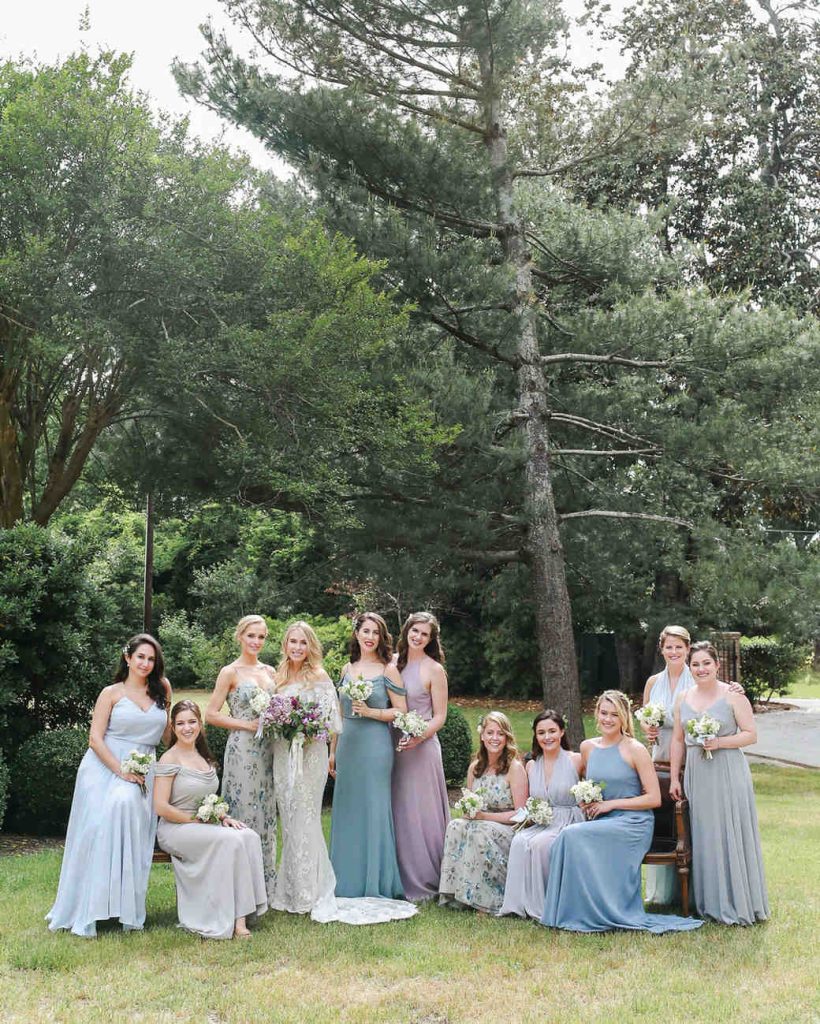 When it comes to flowers, brides are swaying toward non-conventional blooms, lots of foliage, and single stems. There are so many variations you can custom fit to your budget and vision. Small bouquets are taking over in 2019. Just as popular are unique blooms, such as freesia. Brides are even designing combinations with pretty fruits and vegetables in the bundle. Whether you go for a traditional bouquet of creams and whites or a flowing colourful single stem, remember to create a piece that is you!
Ceremony spaces have never been more creative, resourceful or jaw-dropping! The list goes on for that walk down the aisle. We are seeing garlands cascading from the ceiling, bold topiaries lining the ceremony aisle, and whimsical floral backdrops where you say, 'I Do!'. This year the sky's the limit when it comes to envisioning your big entrance.
The wedding favours – oh my goodness! There are so many ways to thank your guests. Some of the most trending favours for 2019 are wild flower seeds in sweet little handmade bags, maple syrup with personalized labels, and takeaway treats (hello little fries and a pop!). Whatever best describes the feelings you have for your loved ones, you can make it happen! Let's not forget sustainable and charming options like the dried flowers to make your own potpourri or re-purposing your wedding centerpieces into little vases.
Let's talk about the yummiest part of the day – cakes! Whether you serve a traditional cake, cupcakes, or a mini cake tower, your guests will be in awe! Black fondant is making an appearance alongside strokes of bright hues, water colours and metallic! We are also seeing a lot of texture added to these masterpieces, including the ever-so-lovely sugar flowers!
Stay tuned for weekly blog updates and make sure to follow us on LIUNA Station's Facebook and Instagram and LIUNA Gardens' Facebook and Instagram as we deliver fresh content to inspire, excite and assist as you plan your dream event.
From all of us at LIUNA Events, thank you for following along!
360 James St N
Hamilton, ON
L8L 1H5
Or fill out request below.