Sweet, scrumptious and a total WOW-factor! LIUNA talks all things cake!
Sentimental wedded moments are cute and all but let's face it everyone is really there to see the cake! Dessert table, wall or buffet we all want to know what you are serving! This week LIUNA looks at the top trending ideas for your colourful, dramatic or playful sweet table!

Photo credit: Elegantwedding.ca
Florals – edible, hand-painted or lush botanicals! These delicate, rich and fun blooms will leave your guests awe-struck! With so many choices your head could spin but narrowing it down with a theme – bohemian, modern or classic- will make it a cake walk! However, if you are looking to keep up with the trends Floristsreview.com notes UK cake connoisseur, Rosalind Miller predicts that 'traditional and prairie-style floral patterns will increase in demand, created in either hand-painted patterns or using real pressed flowers and petals.' 

Photo credit: Purewow.com
Geode embellishments are still pretty and very popular – whether created in bright or muted tones there are so many fascinating ways to adorn your cake with these precious rocks! This cake topper as seen on Purewow.com couldn't be more fitting in your Boho-chic, rustic and natural wedding!

Photo credit: Darling Donuts
Donuts – a must have! Alyssa from Darling Donuts says that 'mini donuts have been a hot trend for several different special events, but mostly for weddings, bridal showers and baby showers. Mini donuts not only make a great addition to any sweets table but are a popular and delicious treat for that someone who prefers to enjoy a small bite of a treat! A popular item with Darling Donuts is the Darling tower which adds lovely dimension to any cake/sweets table, whether placing one on both sides of a cake, or simply trying something totally unique and incorporating the Darling Tower as your wedding cake!' These little gems will be showstoppers!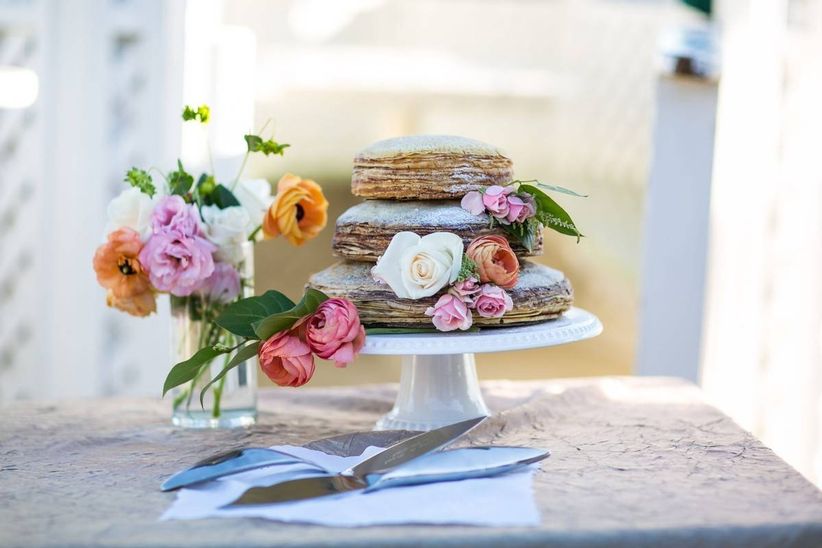 Photo credit: Weddingwire.com
And while donuts are trending in favourable numbers there is a plethora of options to appease the pallet of your loved ones who aren't totally cake crazy! Crepes as seen in Weddingwire.com, cupcakes, cookies or what about an ice cream bar? So many scrumptious options.

Photo credit: Pinterst.ca
We also want to note that we have just brushed the tippy top of your wedding cake potential – dive into the world of cakes, cupcakes or donuts and be prepared to have a rush of creativity wash over you as you dream about damask, hand-brushed to metallics, sequins, geometric or naked cake. OH, and what would they say if your cake was square? We are talking about endless possibilities!
Stay tuned for weekly blog updates and make sure to follow us on LIUNA Station's Facebook and Instagram and LIUNA Gardens' Facebook and Instagram as we deliver fresh content to inspire, excite and assist as you plan your dream event.
From all of us at LIUNA Events, thank you for following along!
360 James St N
Hamilton, ON
L8L 1H5
Or fill out request below.