Masks. Colours. Feathers. Music. Lights. Umbrellas. Yes please!
Romantic, dramatic, colourful and full on fun! If you are thinking of a winter wedding, there is no better concept than a Mardi Gras inspired wedding! We absolutely love a good party and these festival vibes are the perfect antidote for the winter blues!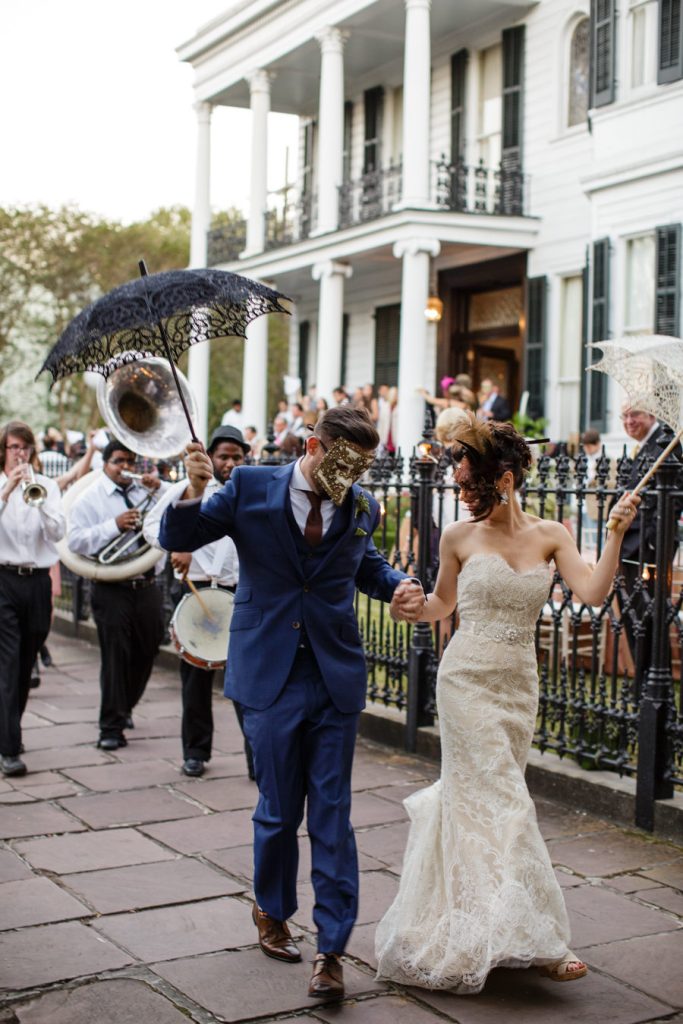 Photo credit: Stylemepretty.com
Nothing creates excitement like receiving the perfect wedding invite! This one really can be so playful with a fun script, feathers and bold colours! But if playful is not your thing and you are going for a more romantic feel – black and gold accents with a dreamy script will really do the trick! Acrylic, laser cut or foil, honestly this is one way to give your guests a little taste of the of what's to come while still keeping them guessing!

Photo credit: Etsy.com
We love the quirky little embellishments that can be incorporated into your reception space (our historic ballrooms and your vision = picture-perfect)! Floral centerpieces can be adorned by draped beads, flowing feathers and embellished with jewels! A cute touch would be to welcome your guests with elaborately decorated street signs (that can also be used in your seating chart and table numbers) and there are so many different ways you can make use of the gorgeous masks that are symbolic of Mardi Gras while still being able to completely tailor it to you and your loves wedding style!

Photo credit: Pinterest.ca
Let's be real – this is one party where live entertainment is a must! Jazz performers, a live band or a unique performance will totally captivate your audience and have them dancing and singing all night long!

Photo credit: Pinterest.ca
Spice up your dinner menu with Cajun, seafood or jambalaya and treat your loved ones to a traditional New Orleans dining experience! Captivate their sweet tooth with Banana Foster and indulge their taste buds with some specialty drinks like The Hurricane, Pimm's Cup or Ramos Gin Fizz to bring all the flavour!

Photo credit: NewOrleans.com
Stay tuned for weekly blog updates and make sure to follow us on LIUNA Station's Facebook and Instagram and LIUNA Gardens' Facebook and Instagram as we deliver fresh content to inspire, excite and assist as you plan your dream event.
From all of us at LIUNA Events, thank you for following along!
360 James St N
Hamilton, ON
L8L 1H5
Or fill out request below.