Indescribably picture-perfect!
It's a big day (of course!) but don't forget the little things that can make it indescribably picture-perfect! We are so fond of weddings from elaborate to minimalist, ballrooms to gardens, intimate and romantic to possibly one of the largest parties that you will ever attend- we love them all! Every little detail is a combination of two sweethearts becoming one! This week we dive into some trending details that will have everyone swooning over your big day!
Photo credit: Harpersbazaar.com.au
Bring the outside in to create an indoor botanical dream! Harpersbazaar.com.au says 'Leave a trail – trailing flowers from the ceiling have been popular. This gives a sense of opulence and intimacy. It also makes the wedding venue feel alive, as if you are dining under a hanging garden.'

Photo credit: The Wedding Depot
Looking for the perfect pieces to accent your wedding vision? The Wedding Depot notes that '2020 trends are a fusion of elements that we have seen in past years. Using modern, rustic and natural elements these will compliment today's wedding designs found in backdrops, centerpieces and table settings. Mix in some florals and other elegant candelabras or tall vases and always remember candlelight is a very important factor when creating an elegant ambiance. We are also seeing more and more silk flowers in floral centerpieces and accentuating backdrops. And Chiavari chairs are an absolute must have these days!'

Photo credit: Pinterest.ca
This will floor you (see what we did there) but in all seriousness, reception or ceremony aisle floor designs are a great way to make a beautiful and subtle statement! You will find metallics, patterns and florals are all ultra popular while others still opt for their names written in script! Oh, and hey, take it to the next level by coordinating your floor design with your sweet little wedding invites! Looking for that added 'wow-factor' get in touch with <atarget="_blank"href="http://www.dancefloorvinyl.com/">Designer Dance Floors to help you design a gorgeous custom piece for your special day!

Photo credit: Latkat Linens
A great table design makes for an everlasting impression! Latkat Linens says 'with 2020 comes – colour! From blush to blues, greys and silvers to sage green, and have fun by using textured fabrics ranging from velvet to linen to sequence. There is no better way to accent these textures than with charger plates, specialty glassware and cutlery to make it a unique setting! Complete your table design with the addition of Chiavari chairs or highlight it with a gorgeous centerpiece from floating candles to crystal candelabras. For an outside wedding add bamboo chairs! Want to achieve that perfect indoor-outdoor look, add a green wall and accent it with various coloured flowers for added depth and texture.'

Photo credit: Lauren Dobish Photography
Let the sunshine in! Whether you meet the sunrise or entertain with that perfect afternoon glow, Bridalguide.com notes 'More Daytime Ceremonies: Bryan Rafanelli of Rafanelli Events, author of A Great Party (Rizzoli New York), says he's seeing a resurgence in popularity of daytime weddings, specifically those taking place in the morning or early afternoon. "These places focus on the ceremony, emphasizing that it's of real importance and not just part of the whole experience," says Rafanelli. "And then there can be a more relaxed experience for the meal to follow."'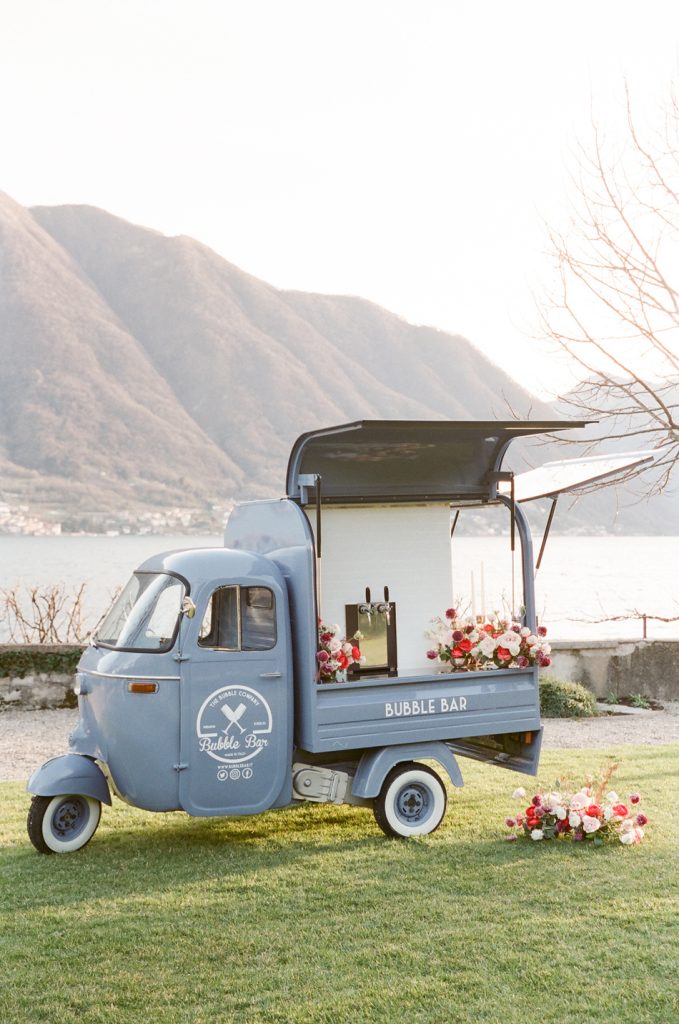 Photo credit: Herecomestheguide.com
Creating forever together! Herecomestheguide.com says 'forget cookie-cutter. Engaged couples want something new and exciting—and they're finding ways to make that happen! Prosecco trucks, caricature artists, tray-passed mini desserts, out-of-the-box venues, unexpected design touches, interactive games, aerialist performers, bounce houses…there are so many imaginative elements that really set a wedding apart. Couples want their guests to be truly engaged in the festivities rather than simply being spectators.'
Photo credit: Pinterest.co.uk
Ditch the traditional confetti send off – Hitched.co.uk says that 'confetti has had it's day. While biodegradable petal confetti is a popular alternative, lots of other different ways of sending off the newlyweds after they've said their vows are going to be big in 2020. Ribbon wands are one of our favourites. Pastel shades look amazing being waved aloft at spring and summer weddings, while jewel tones and rich earthy colours look fabulous in autumn and winter. You'll find almost any colour of ribbon wand you could imagine on Etsy.com/uk but it's also easy to DIY your own.'Stay tuned for weekly blog updates and make sure to follow us on LIUNA Station's Facebook and Instagram and LIUNA Gardens' Facebook and Instagram as we deliver fresh content to inspire, excite and assist as you plan your dream event.
From all of us at LIUNA Events, thank you for following along!
360 James St N
Hamilton, ON
L8L 1H5
Or fill out request below.