How to keep them out of their seat on their feet all night long!
Selecting every perfect detail to define and create a unique wedding experience is hard work! But while pinning, 'heart'ing and dreaming your way through to all of your favourites will make for one magical day full of love and laughter (and a great party)! Today we look at some inspirational trends to help your magical day have a super fun dance party attached to it!

Photo credit: Julia Kaptelova Photography
Dance floor – limitless – endless – options, truly! As seen on Martha Stewart Weddings it's all about stylizing to fit both your personalities! Cute, quirky, romantic or simplistic – outside or inside, there is no right or wrong here! The atmosphere can be determined by so many factors – size of the dance floor, lighting, smoke machine and of course which DJ you choose?! So, when you start to plan your epic dance party remember to always keep in mind your end goal (and remember to keep your photographer handy to capture those fun moments!).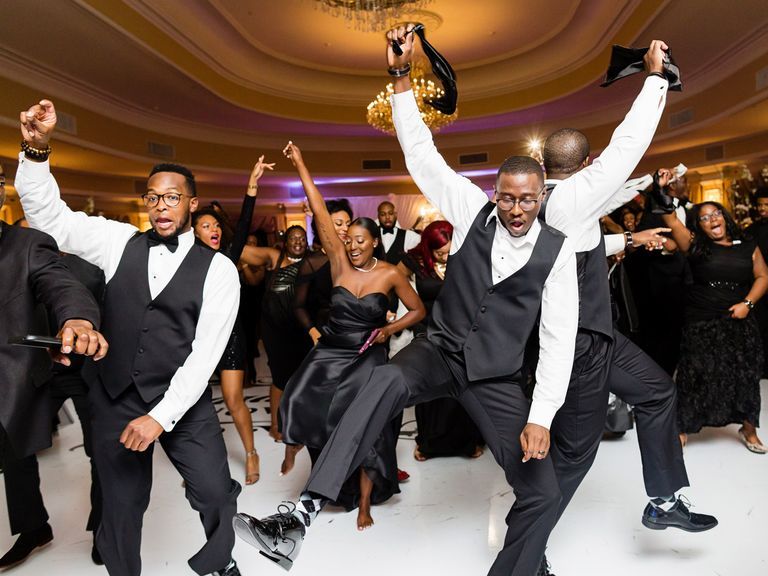 Photo credit: Pinterest
There is nothing like a great entrance (que 'Can't Stop The Feeling' by Justin Timberlake)! More and more we are seeing super choreographed, high energy bridal party entrances to kick off the nights festivities and we are absolutely loving it! Theknot.com has some great song suggestions to get everyone out of their seats and on their feet all night long! Songs choices are personal, so remember to pick something that lights you all up and keeps the happy vibes going all night long!

Photo credit: Pinterest
The newlyweds – the dance everyone will be waiting for! Let's face it all eyes are on you so what are you going to do? Is this a low key- all the feels moment or a plan it and dance it out event? So many options tango, waltz, dare we say country? Anyway, you do it – it's going to reach the hearts of many for sure!

Photo credit: Rebecca Cerasani
We all love those sweet sentimental moments on the dance floor between father and daughter and mother and son so, when planning this significant dance follow your heart. Fast or slow –choreographed or free flow to dancing individually with your loved one or combining the two dances (Because You Love Me by Celine Dion) to make one big tearjerker its all a win! We still love a great traditional song (My Girl by the Temptations, The Way You Look Tonight by Frank Sinatra or Isn't She Lovely by Stevie Wonder) and really, anything goes but some of the more popular songs we are hearing are Adele 'Sweetest Devotion' or Calum Scott 'No Matter What'.

Photo credit: Pinterest
We have talked about it before and we think it is absolutely one of the best ways to show your besties just how much you love them – a tailored box of goodies! This little box of gems will totally help them get through the night. Personalize this emergency wedding kit full with necessities (cologne, tie bar, Band-Aids, gum, hairclips, the list goes on…) and one of the 2019 trending items that will totally win them over in a jiff are Rescue Flats! Just toss these little cuties in a box to save their tootsies and you are a total hero! Oh, and these could make for a great party favour too!

Photo credit: Pinterest
Stay tuned for weekly blog updates and make sure to follow us on LIUNA Station's Facebook and Instagram and LIUNA Gardens' Facebook and Instagram as we deliver fresh content to inspire, excite and assist as you plan your dream event.
From all of us at LIUNA Events, thank you for following along!
360 James St N
Hamilton, ON
L8L 1H5
Or fill out request below.