Ghosts, skeletons or full costume – anyway you dress it up, it still feels like L.O.V.E!
Don't get us wrong, we love our Fairytale'esque style weddings – but can we just say that this time of year the wedding feels are just a little more moody, dark and playful and oh so, so imaginative! For some this season brings out the dreamy, creepy and the horrifying fantasies and we are always extremely excited to see our ballrooms get dressed up in your brilliance!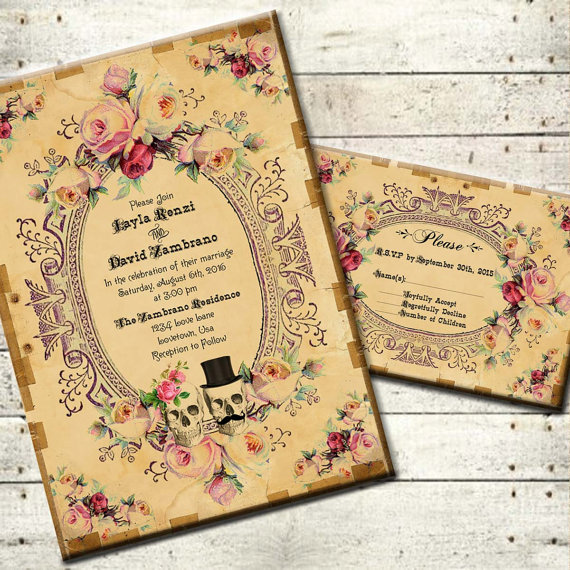 Photo credit: Pinterest
Let's talk invites! The first sign of things to come. Anyway you dress it up the options are infinite. Traditional black and white, dark undertones, moody with a side of burgundy or red. Also, there are so many themed invites like masquerade, graveyard, pumpkins or your favourite movie characters! Popping open your spooky, horrifying or moody invite will surely give any guest excitement for what's to come!

Photo credit: Hannah Arista Photography
Eek – DÉCOR! Well obviously, once you have narrowed down your invite, finding the perfect pieces to help create your spook-a-delic wedding extraordinaire (without going over the top) will be easy to narrow down! Traditionally, there is no traditional here – a lot of soon-to-be Mr. and Mrs. have so much fun putting all the pieces together for this magical night that there really is no ways to get it wrong. We love a good pumpkin themed wedding – so many ways to dress them up and they can make for such a great take away at the end of the night for your guest! But as they note in MarthaStewartWeddings.ca it's all about the mood! Working to create the perfect feeling for your family and friends to enjoy this favoured time of year! And don't shy away from the candles!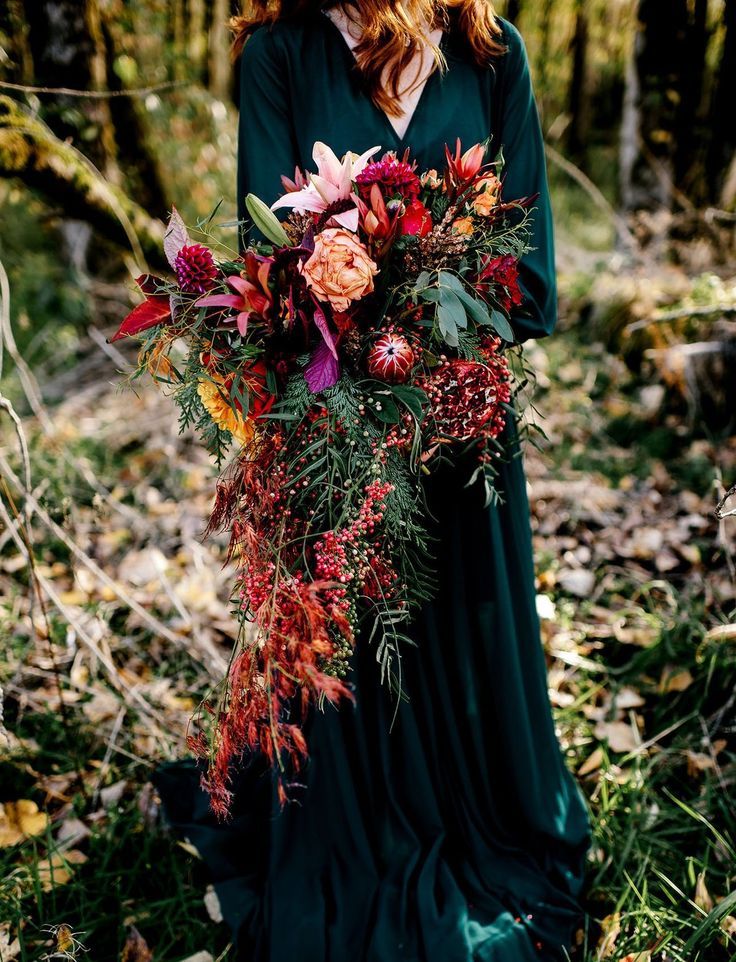 Photo credit: Pinterest
Flowers, one of our favourite topics! Dark anything goes here and get really creative too – this is the time when you can pull anything and make a real wow statement piece! Bright colours, dyed florals s or dark toned blooms mixed with wild leafy greens are a hit. Also texture and little accents like feathers, ribbon or little trinkets can make the perfect addition!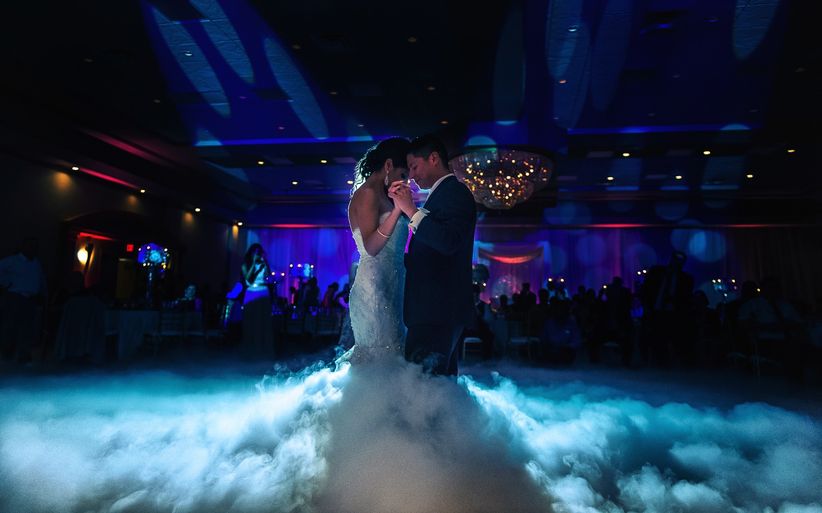 Photo credit: Nick Ghattas Photography
Que 'Thriller' by Michael Jackson to have all your fun party people enter the ballroom to, to announce you as Mr. and Mrs.! The songs don't just stop there, over the years we have heard thousands of amazing songs that will have you and your monster gang dancing all night long (and obviously you will make sure your DJ gets the vibe your going for too!). Check out Myweddingsongs.com for some more Halloween favourites!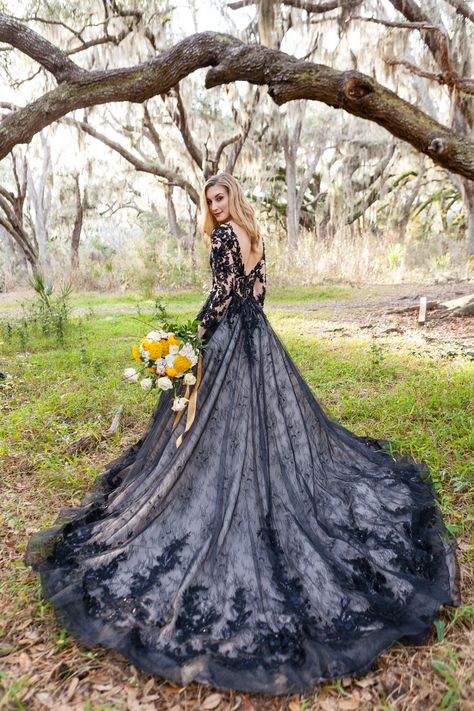 Photo credit: Pinterest – Lori Barbely
Vintage lace, silk, colour drama, cascading layers or straight up costume – face it you're going to be a showstopper! Metallic accents are always a hit – rose gold, bronze or silver will add a little glam! Veils, masks and any head piece will totally elevate your look and add a lot of drama! For your girls (or guys!) do not shy away from mix match patterns, textures (we love velvet) or an array of dreamy dark hues that will fit each of their personalities to a T!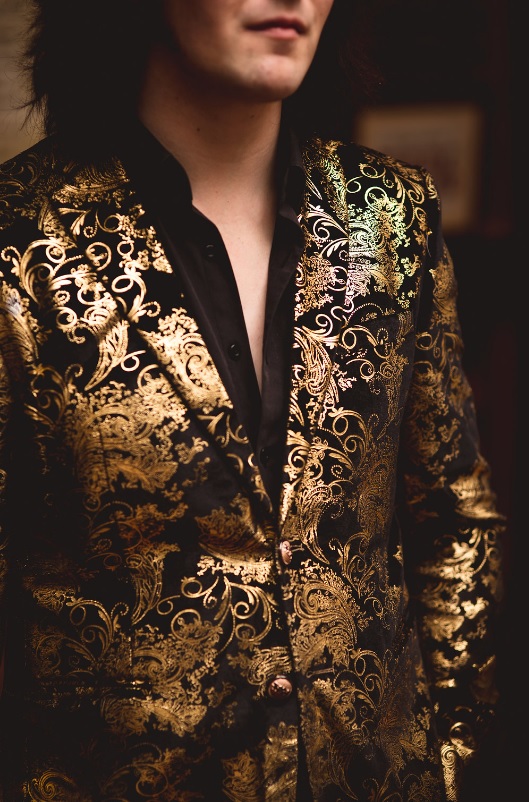 Photo credit: WWW.Weddingomania.com
Let's talk about the men. We absolutely love what TheGroomsmanSuit.com had to say about dressing your fav guy's up! Vintage accessories, pop of colour and texture like velvet or feathers will do the trick and be a treat for the eyes! And don't forget about prints! A dark tux elevated with metallic print would be super on point!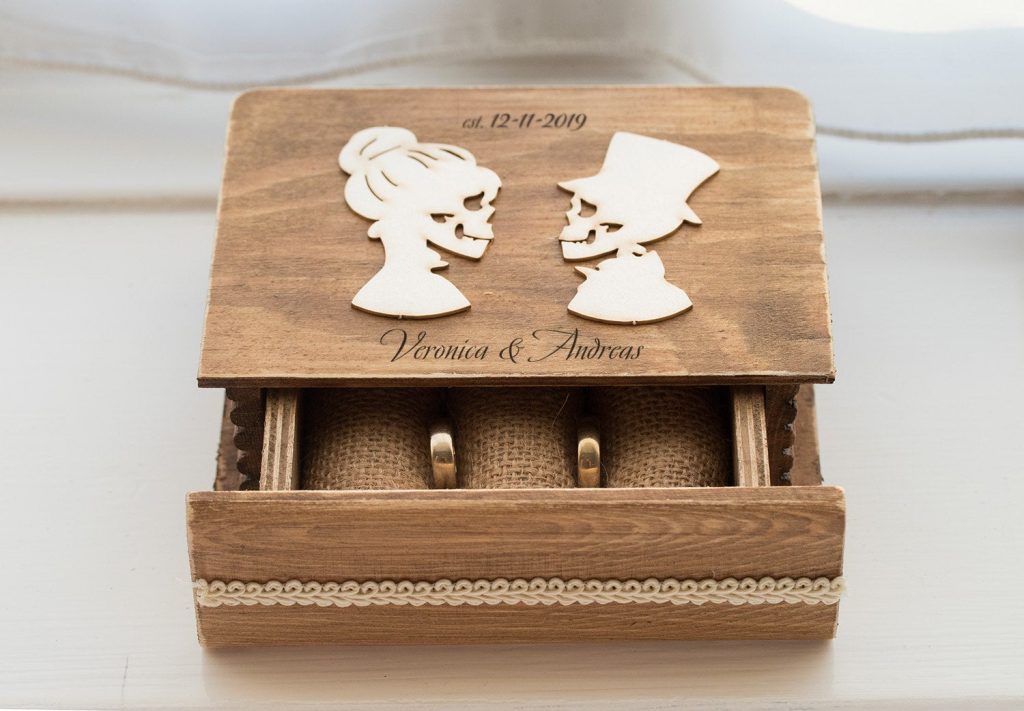 Photo credit: Etsy.com – TheMostSpecialDay
We don't talk to much about it, but we have seen some of the cutest little sentimental ring boxes full of character and charm. What a way to complete the whole feel with a gorgeous little box tailored to fit the theme of your big day!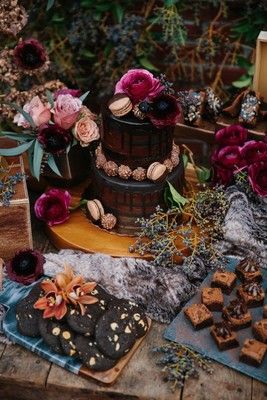 Photo credit: Pinterest
Let's eat cake! Or cupcakes? Or donut cakes? Candy apples? A lot of yummy options to choose from and so playful. Colours, shapes (hello, sugar cookie dreamers!) and flavours. Also don't forget about customized drinks (or potions!) this could be the perfect touch to cap off the night with your awesome group of ghouls.
Stay tuned for weekly blog updates and make sure to follow us on LIUNA Station's Facebook and Instagram and LIUNA Gardens' Facebook and Instagram as we deliver fresh content to inspire, excite and assist as you plan your dream event.
From all of us at LIUNA Events, thank you for following along!
360 James St N
Hamilton, ON
L8L 1H5
Or fill out request below.