Fun, energetic and creative! LIUNA talks all things DJ's!
Everyone will remember the dress, the ceremony and the cake but all they will really be talking about is the after party! There are so many questions when it comes to finding the perfect DJ and we are here to help make life a little easier for you! Let's look at some of the trends and tips to find the perfect fit for your reception!
Photo credit: Pinterest.ca
Personalization! Go on and be totally self indulgent – this is about you and your beau picking the perfect DJ (and MC) to help you create a mood that will have you feeling at ease! Songs that relate to you (regardless of era) are what will set you and your night apart from all the other weddings that have come before. So go on and pick your favourite tunes and dance the night away – your energy will be contagious and everyone else will dance along!
Photo credit: Pinterest.ca
Infectious, electric and fun! Get yourself a DJ that ignites the crowd in the most joyful ways. So, when you are looking for that perfect fit Withjoy.com notes that 'if you want your DJ to be really involved in making your reception fun, make sure to ask about how they engage a crowd. Some important questions to ask:
How does the DJ get people dancing if they seem reluctant? Will they accept requests from guests?
Is the DJ willing to also act as an emcee and make announcements?'
Photo credit: Pinterest.ca
Referrals! Everybody knows someone – whether it be a DJ or a friend who just got married! If you have recently been to an outstanding wedding where the party was bumpin' all night or a friend of a friend knows someone who can throw a mean dance party – get their info! Experience is key here and if you know someone who has had the night of their life then get their digits!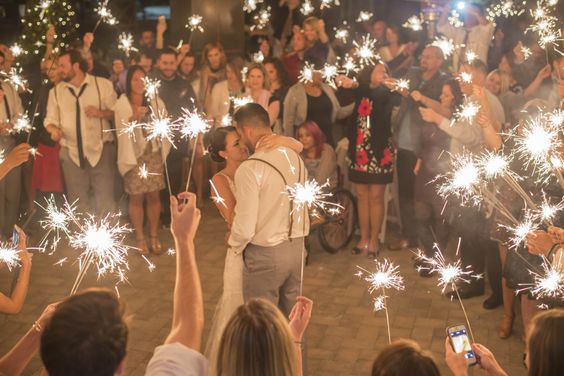 Photo credit: Pinterest.ca
And never forget 'an experienced Master of Ceremonies paired with a high energy DJ will select
the best 4 songs to end the night with a BANG based on guest input throughout the evening.
Reading a crowd is a skill that some have perfected and others only dream about.' -Herbert
Hernandez from DJ Emporium .
Stay tuned for weekly blog updates and make sure to follow us on LIUNA Station's Facebook and Instagram and LIUNA Gardens' Facebook and Instagram as we deliver fresh content to inspire, excite and assist as you plan your dream event.
From all of us at LIUNA Events, thank you for following along!
360 James St N
Hamilton, ON
L8L 1H5
Or fill out request below.