There is NO such thing as too much sparkle! With Bella Mia Bridal
Without the right vendors our clients' dream day would not come true! We are thrilled to work
with some of the most passionate and hardworking people throughout Hamilton and the
surrounding area and for our very first vendor blog feature we are privileged for it to be – Bella
Mia Bridal! They are a true example of grace and beauty with their gentle hands-on approach
and breathtaking showcase of gorgeous bridal dresses for brides to step into and fall in love, all
over again!
Tell us a bit about your business?!
In the heart of Hamilton, Bella Mia Bridal prides itself on its large beautifully curated selection
of wedding gowns with equal opportunity sizing. Bella Mia Bridal offers a wide variety of
designs, styles and sizes. Bella Mia Bridal is the shop where magic happens and dreams come
true.
We have to ask! What's your fave part about working with LiUNA Station?
LiUNA Station is an absolutely stunning venue! We are so honored to be a part of the LiUNA
Station family and be connected to a venue that is so beautiful and in the heart of our city.
What would you say are the top three trends in your line of work?
Sparkle! There is no such thing as too much sparkle, especially in current wedding gown trends.
We're seeing a lot more shimmer tulle and sequins in our latest gowns. Sparkle adds magic to
any dress.
Square Neck-lines! A square neckline is modest but still is relatively open. It's a nice mix
between a full coverage gown and a v-neck plunge, which is becoming increasingly more
popular.
Long Trains! As weddings are opening back up, brides want the full drama of a long beautiful
train. They look gorgeous in photos and walking down the aisle.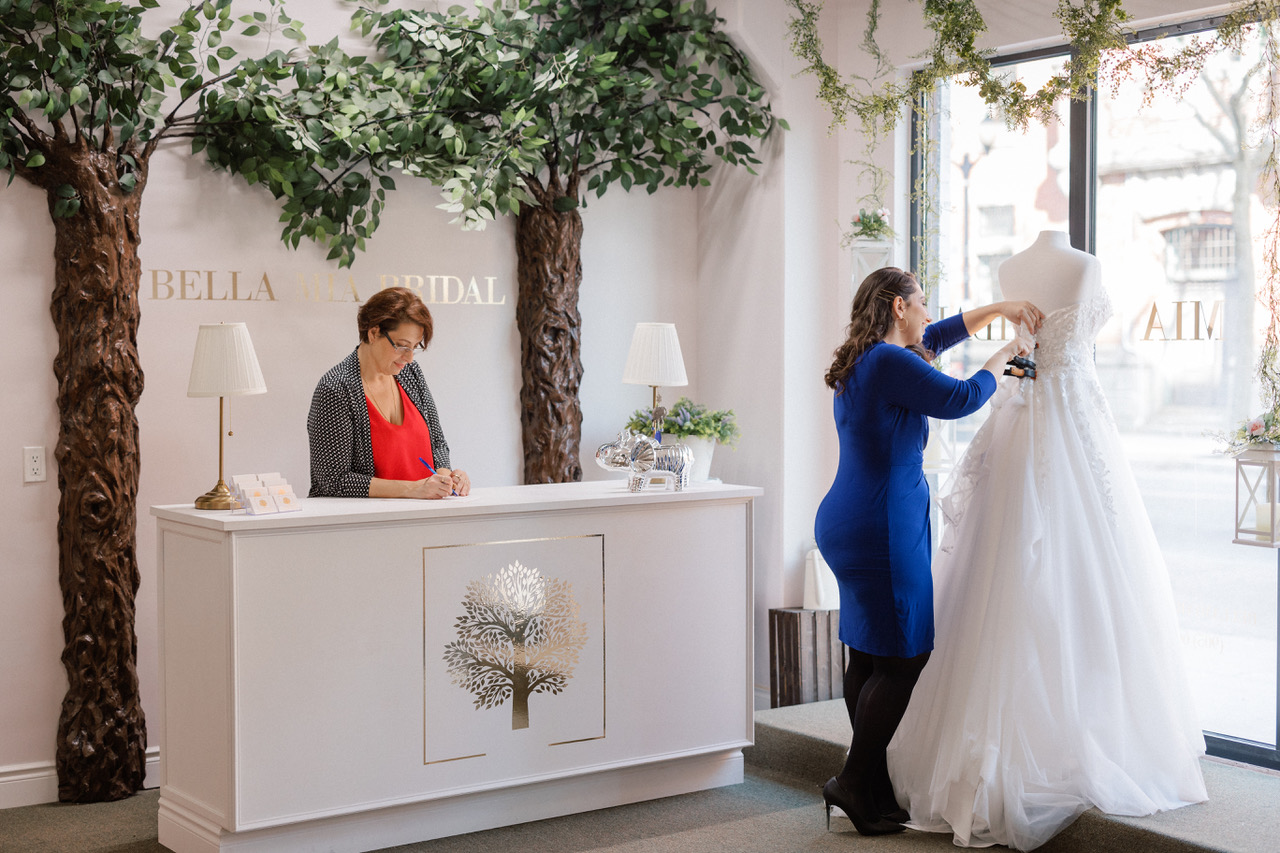 What was your all time favourite bride you worked with and why?
We can't pick a favourite bride, we love them all! Our favourite part of helping brides find their
dream dress is the moment they find the dress that is perfect for them. Everything clicks and
the moment is magical!
All photos taken by the extremely talented Alexandra Del Bello |Found on Instagram @alexandradelbello 
Tell our community where they can find you if they are interested in working with you at
their next event! 185 James St. N. Hamilton Ontario or online at Bella Mia Bridal