Trending themes for a dark and dreamy 2020 wedding!
Happy New Year! 2020 is going to be an exciting one and we are looking forward to the many new faces we will meet this year – especially our newly engaged couples! The New Year brings so many wonderful things and we absolutely can not wait to see all the creative, imaginative and inspirational ways you will adorn our ballrooms, foyers and greenspaces! This week we have completely fallen head over heals in love with dark, dramatic and moody wedding décor!

Photo credit: Happywedd.com
There are so many options to create the perfect chic and moody invite! From watercolours to florals, lace and of course, the traditional black to refined grey's or beautiful deep jewel tones adorned with white script, gold etching and finish the look with gorgeous floral lined stationary your guests will be intrigued.

Photo credit: Pinterest.ca
Organic and natural, there has never been an easier way to find the perfect accents to capture your vision. We absolutely adore the idea of a dark floral necklace shown on Weddingwire.com. Wedding Wire also note that sustainability is highly considered when designing your ideal floral pieces – repurposed (using bridesmaids' bouquets as reception centre pieces), home grown florals and barely there (single stem) options are all becoming very popular in achieving the perfect setting! Wedding Wire notes that the future Mr. and Mrs. are consciously considering the 'bigger picture' and opting for 'quality vs. quantity.' And when thinking about colour deep rich tones will have everyone going gaga over your moody blooms!

Photo credit: GoodSeedFloral.co
Want to take your ceremony space up a notch – designing the perfect arch will have everyone in awe! Whether your instillation is garnished in an abundance of drapey greens or your decide to go off the beaten path by building your own structure and suspended wispy florals and branches to create a dark, moody or even spooky vision unlike any other! Perhaps you could hang several strands of string lights accompanied by candle pillars, candelabras and votives on the floor surrounding your ceremony space – you will totally hit that whimsical and edgy vibe out of the park!

Photo credit: Pinterest.ca
Décor – simple, elaborate or over the top, we've seen it all! Our favourite dark place settings have included neutral colours using a pop of burgundy, navy or mossy green with metallic silverware (metallic details are everything for 2020). We love the addition of draped gauze, lace or a fresh greenery runner for the perfect finish! Also, super simple way to achieve the dark, dreamy and romantic look is with repurposed (hello, sustainability!) wood tables as they are full of charm and character. Oh, and don't forget to place a plethora of different sized pillar candles amongst the lush greenery runner for a picture-perfect, warm and glowy feel.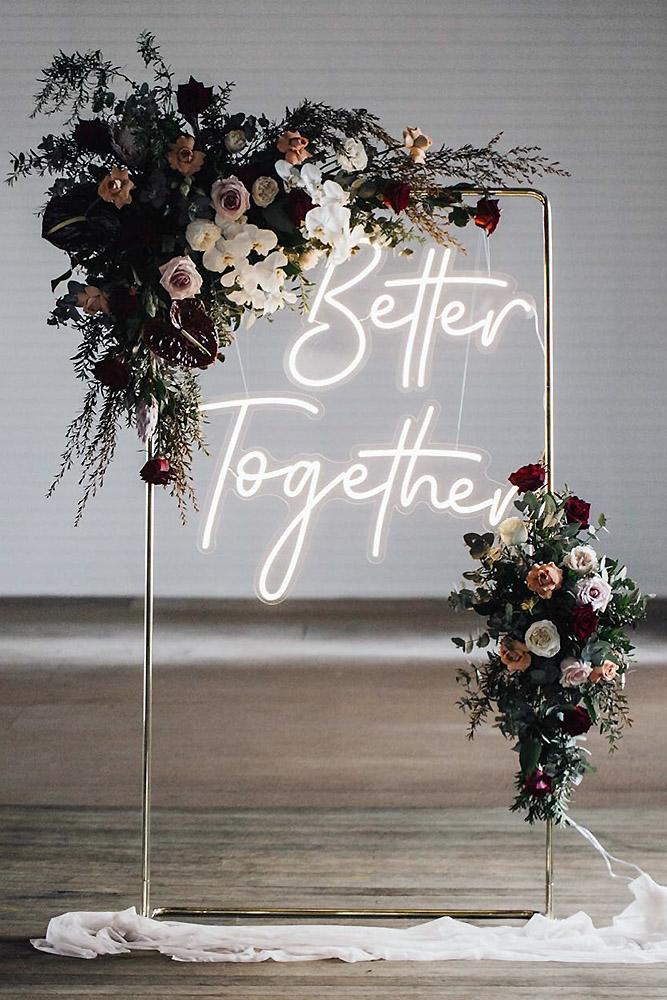 Photo credit: Weddingforward.com
Lighting it creates the ambience, so really think about what kind of mood you are going for! String lights, pin lights or up lights will have your space set for any reception (when done correctly)! However, this year the trending theme in lighting is neon! Cute little quotes decorated with flowers are becoming quite the show stopper – remember sometimes you must do it for the #gram)!
To start planning your dark, moody wedding call us now for available 2020 dates (such as October 31st, yes Halloween is on a Saturday this year!!!) – we only have a few spots left! Oh, and don't forget to stop in and say 'hi' when visiting Canada's Bridal Show in Toronto January 10th to the 12th or at the Hamilton Bridal Show between January 25th and 26th!
Stay tuned for weekly blog updates and make sure to follow us on LIUNA Station's Facebook and Instagram and LIUNA Gardens' Facebook and Instagram as we deliver fresh content to inspire, excite and assist as you plan your dream event.
From all of us at LIUNA Events, thank you for following along!
360 James St N
Hamilton, ON
L8L 1H5
Or fill out request below.