Building relationships while creating elevated experiences – LIUNA catches up with Photography by Azra!
Toronto based photographer Azra from Photography by Azra , absolutely blew us away with her amazing sunset photo at a recent June wedding in the enchanting LIUNA Gardens! We just had to find out a little more about her, her business and when you should contact her to book! We can not stop gushing – so many beautiful memories captured!
Tell us a bit about Photography by Azra?
I am a twenty-something wedding photographer based in Toronto, Canada serving joyful couples! My goal is to tell your love story by capturing genuine EMOTIONS of love, happiness, and laughter, through an elevated experience you will never forget!
How did you get started in the industry?
My love for photography developed while I was studying Computer Science at Ryerson University. I felt called to explore my creative side and had always loved taking pictures with my mom's camera, so I decided to purchase my own 'professional' camera. I immediately fell in love with photography and couldn't seem to put my camera down! I took photos at my brother's wedding and that's when I knew that was what I was meant to do! For the rest of my time at university, I went to class during the day, took photography classes at night, and photographed weddings on weekends. When I graduated, my heart was with photographing love stories, so I took my Wedding Photography business full time and I've never looked back!!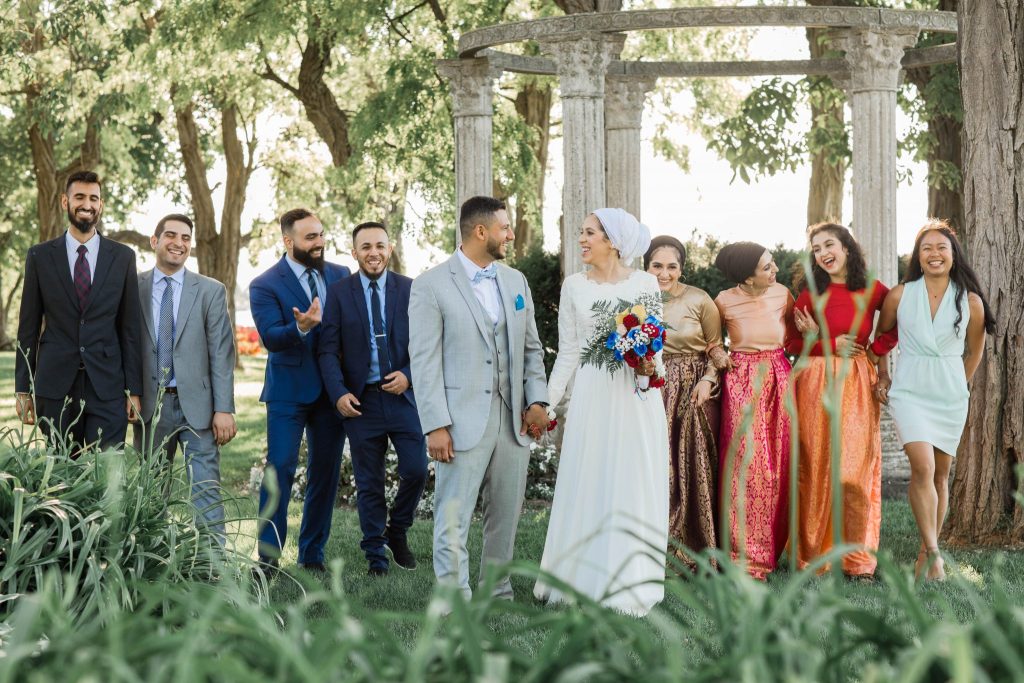 What is one part of the job you absolutely love?
My favourite part of what I do is being able to build a relationship with and getting to know all of my couples. I still stay in touch with all of my past couples until today and many of them have become some of my closest friends!
What stood out to you when shooting the LIUNA wedding?
I loved that LIUNA has everything you need on a wedding day! We photographed my couple's getting ready photos, their bride and groom portraits, and their entire event just at the venue! Usually on a wedding day we are driving in between locations but being able to do everything right at LIUNA was amazing!!
One of you favourite moments from the LIUNA wedding?
Sunset photos!! I usually never have the pleasure of photographing my couples during sunset on their wedding day as we are usually inside a banquet hall that doesn't have any nature outside. But with LIUNA, we were able to pop outside right before sunset to get the most gorgeous photos with the sun setting over the water.
What is one thing that always surprises you about weddings?
I'm always surprised at how different every single one of my weddings are! I've never photographed two weddings that were the exact same, even if it was at the same venue! Every single one of my couples add a special touch to their day from either cultural traditions, fun games, unique details, etc!
Starting out, what was the biggest learning curve when working an event?
My biggest learning curve was being able to get my photos to be my consistent bright and airy style no matter what lighting scenario I was in! I definitely had to learn how to adjust to different lighting scenarios, such as barn venues, venues with darker vibes, etc. I now feel confident to tackle any lighting scenario thrown at me!
What's a trick you use to make clients feel comfortable and at ease?
I always try to keep talking to my couples throughout their session. I feel like any moment of silence can make my couples feel awkward and I never want them to feel like that! So, I always keep talking, guiding them, providing them feedback throughout their entire photoshoot!
How do you keep it fresh? What inspires you?
Laughter and joy is what inspires me! No matter what location I'm in, as long as I'm able to capture the joy between my couples, then I feel like that is how I'm able to keep my photos looking fresh!
What type of session would you love to do but haven't yet?
I love looking at newborn photography! I find it so fascinating but am nervous to try it out because I feel babies are so fragile!
Do you travel for events? 
Yes! I absolutely love to travel for weddings! As long as all accommodations and travel costs are reimbursed for both myself and my second photographer, we're happy to travel anywhere!
When should people book with you for an event?
I recommend reaching out as soon as you have your date set and your venue booked! I usually get booked 6-12 months in advance.
To check out her amazing gallery ad get in touch click the links below!
Facebook
Instagram
Website
Stay tuned for weekly blog updates and make sure to follow us on LIUNA Station's Facebook and Instagram and LIUNA Gardens' Facebook and Instagram as we deliver fresh content to inspire, excite and assist as you plan your dream event.
From all of us at LIUNA Events, thank you for following along!
360 James St N
Hamilton, ON
L8L 1H5
Or fill out request below.